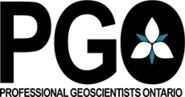 Welcome to the Professional Geoscientists Ontario (PGO) Application for Membership.
If this is your first time applying with the PGO, please click the First Time Applying with PGO "Start" button below.
If you are unable to complete the application in one sitting, you may save it and return later.
To continue an existing application, please input your application number and password (these are e-mailed when you start a new application) below on the right and click "Sign in".
Please note the application cannot be updated and/or changed after it has been submitted to the PGO. Should any changes be required after it has been submitted, please send an email to the PGO office to
applications@pgo.ca
, using the subject line
"Application No. __________ Information Revisions"
.
In addition to the online application you may be required to submit:
In accordance with PGO Records Management Policy, all records of paid applications will be retained for a minimum of seven (7) years of inactivity. All records of incomplete unpaid applications will be destroyed after three (3) years of inactivity.
First Time Applying with PGO
You may start the application by clicking the Start button below.
Continue an Existing Application