Panel Session D, April 29, 2021, 10:00 a.m. to 12:30 p.m.
ET
Innovation in Geoscience: Implications of Emerging Technologies and Their Applications
Presentation 4:

Teaching, Learning and Research with Electronic Circuits: Measurement and Monitoring of Environmental Phenomena
ABOUT THE SPEAKER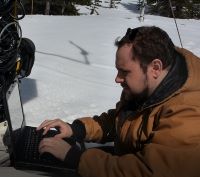 Dr. Nicholas Kinar, Centre for Hydrology of University of Saskatchewan, Global Institute for Water Security

Dr. Nicholas J. Kinar is currently the Assistant Director of the Smart Water Systems Laboratory at the University of Saskatchewan and is also a member of the Global Institute for Water Security (GIWS) and the Centre for Hydrology. He is a Fellow of the Royal Geographical Society and a member of the Canadian Geophysical Union (CGU) and American Geophysical Union (AGU). Nicholas conducts research on how electronic circuits can be utilized with physics-based models of environmental phenomena to measure and characterize hydrological processes. He designs custom electronic circuits for research and teaching applications. Aside from in-person outreach activities and teaching at the postsecondary level, Nicholas conducts a Hydrology Paper of the Day on Twitter @KinarNicholas where one paper a day is selected, summarized, and shared with the online community. He also serves as a photographer and videographer for the CGU conferences and assists with the curation of images for this scientific society. Nicholas' poetry and other writings have been produced by CBC Radio in Canada and published in the online peer-reviewed Consilience Journal (https://www.consilience-journal.com/) that explores the dynamic interrelationships between science and art.


Click on the PGO 2021 Virtual Symposium Program.