MESSAGE FROM THE CHAIR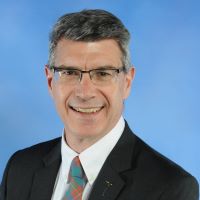 On behalf of PGO and the Symposium Planning Committee, I would like to thank everyone who made this year's virtual symposium a great success and a unique learning opportunity accessible for all, regardless of location or ability to travel. Four informative and interactive sessions delivered by a panel of expert speakers covered a wide range of topics related to the practice of professional geoscience including self-regulation; climate adaptation and sustainability; equity, diversity, and inclusion; and professional responsibility.

The 2023 Virtual Symposium recordings will be available online to registered attendees until June 30, 2023. Registration will remain active for those who missed the live symposium events but still wish to purchase access to the recordings by registering online.

I would like to thank all the members of the 2023 Symposium Planning Committee for their hard work in pulling together topics for this year's symposium and the Session Chairs: Kristin Hanson, Alicia Kimberley, Joanna Eyquem, Kirstina Anderson, Neera Sundaralingam, and Hannah Chessell for recruiting engaging presenters.

A special thanks to all the 15 wonderful speakers from across Canada who graciously volunteered their time and shared their knowledge, experience, and insight on topics they are passionate about.

I also acknowledge our sponsors who made it possible for us to keep registration fees low.

Finally, I would like to recognize the invaluable contribution of Marilen Miguel, PGO's Director, Internal and External Affairs for all her efforts, the symposium would not be possible without her.

Sheila Ballantyne has accepted the role of Chair, Symposium Planning Committee for 2024, and I know she will do a great job! If you are interested in participating on next year's planning committee, please contact Marilen Miguel at mmiguel@pgo.ca.


Best Regards,

Craig Waldie, P.Geo., FGC
Chair, 2023 Symposium Planning Committee
---
Register online! Click on the SYMPOSIUM PROGRAM

CPD Hours: For professional geoscientists in Ontario and across Canada, this is an excellent and cost-effective way of accumulating continuing professional development (CPD) hours for 2023.

---
SYMPOSIUM RECORDINGS


For those who missed the live symposium events but still wish to purchase access to the recordings, please register online.

Registered symposium attendees: If you have not received the session recording(s), please send an email to Lauren Atmore at latmore@pgo.ca.


---