AWARD OF MERIT 2016
The Award of Merit recognizes geoscientists who have been members of PGO for at least ten years and who have:
made a significant contribution to the geoscience knowledge base;

made a significant contribution to the fields of mineral exploration and development, environmental geoscience or geophysics;

contributed significantly to public service and protection of the public; and

whose actions and accomplishments reflect positively on the geoscience profession.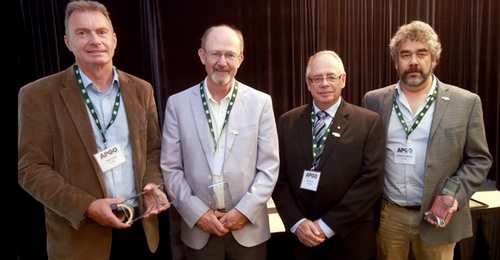 PGO launched its inaugural Award of Merit at its Annual General Meeting in June 2016. Nominees were first identified by their peers in the geoscience profession and then were evaluated by a three-person panel. Not only has each one of them contributed significantly to the field of geoscience, each has also succeeded in bringing aspects of geoscience to the public at large – no easy feat. Each of them is a fine example of what a geoscientist can be. The inaugural recipients were:
Terry Robert Carter, P.Geo.
Nicholas Eyles, P.Geo.
R. Mohan Srivastava, P.Geo.